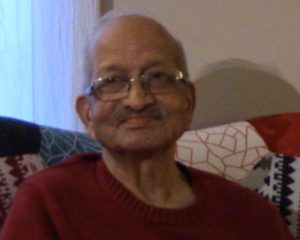 Ramakant Maharaj (b. 08 July 1941), is a direct disciple of the late Shri Nisargadatta Maharaj(d.08 September 1981) and spent 19 years with him. He is an Indian spiritual teacher of Advaita (Nondualism), and a Guru, belonging to the Inchegiri branch of the Navnath Sampradaya. He offers initiation to this Sampradaya.
Jnani Sri Ramakant Maharaj
Ramakant Sawant was raised in rural Phondaghat, Gadgesakhal Wadi. In 1965 he attended the prestigious establishment of Elphinstone College, at the behest of Nisargadatta Maharaj. Following this, he graduated from Bombay University in 1972, (M.A in History and Politics). In 1976, he obtained his LLB qualification, from Siddhartha Law College, Bombay. He worked in the Legal Department of the bank. This from 1970 till he retired as bank manager in 2000. He is married to Anvita Savant, also a disciple of Shri Nisargadatta Maharaj. They have two sons.
In 1962, Ramakant Maharaj was introduced by relatives to his future guru, Sri Nisargadatta Maharaj. After spending a few months with the Master, he took the Naam Mantra, the Guru Mantra on 2nd October, 1962. From then on, he visited Nisargadatta Maharaj and listened to his lectures regularly, until his Master's Mahasamadhi in 1981.
During the last decade or so at the Ashram in Nashik, Sri Ramakant Maharaj has been introducing students/disciples/devotees from around the world to these teachings and on occasion, at his discretion, initiating them into the Inchegiri Navnath Sampradaya Lineage.